Stock & Tools
The Bowyer's Edge™


The premiere finesse tool for tillering. Leaves no tool marks. Effortless. Works as well to taper arrow shafts and manipulate spine. Comes with sharpening jig, burnisher and complete instructions. Instructions available online in English (pdf) or Deutsch (pdf).
More info.
$65.00 + $12.50 S&H


Universal Bowyer's Rasp (UBR10)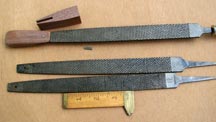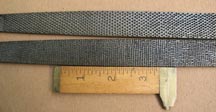 click to enlarge
The Bowyer's Edge™ is pleased to introduce a unique bow rasp, the flat, hand-cut UBR10, designed for the bowyer by Dean Torges. It's a universal rasp for shaping your bow efficiently and accurately, the only one you'll require between roughing out and final scraping.
The shape is long at ten inches, and narrow at 7/8 inch. You can sweep along the limbs with confident strokes because of the length, yet the width allows you to form the deeply convex or concave surfaces on a bow, such as the dips or the handle flares.
The teeth are individually hand-raised with a mallet and chisel on a carbon steel blank, positioned in a quick cutting and non-clogging pattern to speed the work.
You get two cutting surfaces on one tool, one coarse and the other fine. No need to switch back and forth between rasps, nor to purchase two rasps. One does it all.
The smoothness of cut comes from expertly raised teeth. One man owns and operates the complete production process. He has experience. The coarse side does not rake the work surface, but is aggressive and efficient. The fine side clarifies the shape, leaving behind a powder sawdust and a surface ready for scraping and finishing.
A roll-pin provision for the rasp head allows you to attach a wooden cap, making the UBR10 a two-handled rasp. Several important advantages result. 1. A handle on either end translates into a long-lasting tool. File manufacturers recommend that you not touch the teeth of a rasp or file because the moisture from your hands will corrode and blunt the teeth over time. That's been impractical advice until now. 2. Shaping happens more accurately with greater touch when you pull rather than push the rasp. An oval-shaped head cap provides you comfortable "front wheel drive" control. 3. Rasp teeth will no longer abrade your steering hand.
The UBR10 comes supplied for the tang end with a ferruled Lutz #2 File Handle made of polished birch, and, for the other end, a machine cut cap blank, ploughed to the right width and depth, with a hole drilled to accept the roll pin (included). You can shape the cap as you desire. We recommend that you also epoxy-bed it in place. A simpler option is to supply your own round wooden drawer pull screwed on through the cap hole.
The UBR10 compares favorably to the 10" European rasps selling upwards of 90 dollars on the fine side, and cuts as fast and smoother than a #49 Nicholson without clogging on the coarse side.
Note: The UBR10 is a quality tool. It has it's own mind and purpose such as all quality tools do. The temptation may be great to hog wood with a two-fisted approach, but let the tool do the work. You should be more spectator than straw boss. Sawdust will fall to the floor and the work will speed along. Please also do not use a regular metal file card to clean this or any rasp. Purchase a cheap, stubby nylon bristle brush for the purpose such as furniture refinishers use to clean paint-stripped molding, available from any paint store.
$84.00 + $8.00 S&H


Nicholson Nock File

4" Nicholson Nock File. Don't confuse this with inexpensive chain saw files. It is a tapered rattail bastard, for perfect nocks, quick and clean.
$8.25 + $5.50 S&H


Bahco (formerly Sandvik) Cabinet Scrapers

2 1/2" x 5 7/8". The standard of the industry. See Hunting the Osage Bow for sharpening instructions.
$8.00 + $5.50 S&H


Straight Limbed Bamboo/Osage Blank Kit

This kit is put together under the same circumstances as the reflex/deflex kit, except that it's built around the straight-limbed blank. Since the straight-limbed blank is easier to tiller than the r/d style, this makes a great starter kit. The pamphlet will lead you to a superb, straightforward hunting bow, quiet, smooth, stable with cast aplenty.
This package includes:
Bowyer's Edge™, the premiere finesse tool for tillering bows and working arrow shafts.
Bahco cabinet scraper, the spring steel standard of the industry.
4" Nicholson nock file, permitting fast and accurate incision of crisp nock grooves.
Paperback copy of Hunting the Osage Bow, with precise step-by-step directions for faceting a bow, tillering it and putting it under a durable finish.
DVD of Hunting the Bamboo-Backed Bow, which shows you how to lay up and build your own bows.
New pamphlet with illustrated text.
$273.00 + $28.00 S&H (shipped under two separate covers) - Currently Unavailable


Straight-Limbed Bamboo/Osage Blanks
Want a no-frills, hard-working hunting bow? Check out the newest addition to our lineup—a bamboo-backed osage blank that is low in price and high on quality. This bow is designed to be durable and dependable. It will yield an exceptionally quiet and forgiving bow because of its profile. It's wide enough of limb to provide you with plenty of stability, deep enough of core to cast heavy arrows efficiently, and short enough to be quick and maneuverable. This is the hunting archer's bamboo/osage answer to a straight-forward, no-nonsense affordable bow—64" nock to nock in the style described in Hunting the Osage Bow.
The blank comes to you squared up to all four sides and ready to facet. It shows about 1 1/2 inches of reflex and will shoot into a straight-limbed weapon of the profile Howard Hill preferred. It comes aided by the new faceting pamphlet, too, detailing the steps that will take you on a steady march to perfect tiller.
This blank shows the same high regard for craftsmanship evidenced in our r/d blank. The materials are select, the bamboo is tapered precisely by hand and glued seamlessly to an osage slat. The slat is precision-thicknessed and tapered from riser to tip to serve as a guide toward tiller.
I do all the work on these blanks, and there isn't one that I send out that I wouldn't use to make a bow for myself. Complete with pamphlet.
$195.00 + $20.00 S&H - Currently Unavailable


Thompson Double Header
I saw this (click for photos) on Ron Thompson's bow at GORH III. It's a light, affordable, well-conceived two-arrow quiver, very traditional in style, sewn by Amish harness makers in the heart of Ohio's Amish country from the highest quality saddle leathers. The hood, comprised of 5 layers of leather all saddle-stitched together, features gussets between each pocket that protect the stitching and allow the broadheads to slip in and out effortlessly. Uses quality Cherokee lacing to strap each unit to the bow.
Nothing beats the Wilderness Stalker combined with the Solo Stalker for the hunting archer focused on big game, but to my mind and method, this is an ideal supplemental quiver for the opportunistic, early-season hunter. Lay in a supply of small game heads in your back quiver in one section, a few broadheads in the other, place two broadheads into the Double Header, nock a bladed blunt onto the string and you are ready for squirrels or rabbits or the occasional whitetail that decides to walk past while you're having fun. Your broadhead is immediately accessible, no flagging motion, no danger to you.
For best results, wet the lacing slightly. With the clip and the hood positioned on narrower portions of the limbs, pull the lacing into tight overhand knots, then push each unit further onto the risers, trim and let them dry. Once in place and conformed to the bow limb, they will become firm and solid. If the need arises, you can slide them on and off without untying the lacing.
Currently Unavailable


Three-Blade Wood Stalker
I asked Jack for a solo stalker for three blades because of my interest in the Wensel Woodsman. "Can't be done worth a hoot—too labor intensive," was his reply, and he suggested I use a regular solo stalker with a wedge cut from its face to accommodate a Woodsman. "Just be careful," he warned.
I modified one that way last season. Despite efforts to be cautious with the exposed blade, I cut myself twice during hunts, once so badly but cleanly across the ham of my thumb that when morning light came to my tree stand position, I wondered where the heck all the blood had come from.
This three-station solo stalker (click for photo) is Jack's answer to my mishap. I used it successfully in Australia this April. During a hands and knees stalk on a red deer stag, I was able to remove the Woodsman from its sheath, nock it quickly and take advantage of a lucky situation when a second stag came from behind in hot pursuit of a hind. This three-station solo stalker, sized for Wensel Woodsmans, gets a healed thumbs-up. Comes with a Selway lower limb clip.
$10.00 + $5.50 S&H


Solo Stalker
For carrying a quick first broadhead safely, tied to the upper limb. Hand-sewn heavy latigo with tough 5-6 oz Cherokee lace. Comes with rubber piggy-backer and latigo tie for securing arrow shaft to lower limb.
$7.00 + $5.50 S&H


Trade Points

Tie-on trade points, designed by Jack Bowers, hardened to a Rockwell of approximately 52 and priced so you don't flinch when you let one fly. I've killed big and small game with them. They are strong and durable and hold a keen edge. A fellow in Michigan told me at the Trad Expo several years ago that he'd killed four deer with one head and was looking for his fifth with it.
I've been out of these heads for several years because the die broke. Had it repaired, stamped out 500 heads recently and broke it again. These are the last of this style. Some warp slightly coming through the hardening process, which also leaves them flecked with rust spots. A few hammer taps to the convex side will have them spinning true, a wipe with a file will debur them, and sandpaper will clean them off. The slots are 5º, same as the ferrule taper for field points and broadheads. Simply taper the arrow shaft, kerf it with a saw, epoxy the trade point in place, spin it true when it starts to set up, wrap it up however you wish, with sinew or serving, and file on an edge (sharpening). 140 grains. Package of 12 trade points.
Currently Unavailable


The WILDERNESS, Side Stalker Quiver

Jack's original side stalker quiver has evolved into what I believe is the finest hunting quiver available for big game when used in combination with a fanny or back pack. Over twenty years of experience in the field are behind the refinements and embellishments exclusive to this model. Completely hand sewn of choice 10-12 oz oil-tanned latigo by its originator, Jack Bowers, to last a lifetime. Friction fit hardwood plug protects broadhead points, and its shape can be changed to accommodate your needs. Adjustable 3/4" Cherokee lace strap, with a protective fletching hood. Comes also with a Selway arrow clip and and one Solo Stalker. Maneuverable and versatile. Specify right or left hand. Click here for quiver photos and a tip from Dean.
Exclusive to the WILDERNESS Chief:

Cherokee strap features a quick and positive adjustment tab
Two-part hand-sewn stiffener circles top of quiver
Side stiffener doubles as sheath for 6" mill file
Features:
Unlike rigid vegetable-tanned cowhide quivers, the Wilderness latigo is thick enough to hold its shape, soft enough to be quiet when brush rubs against it and compact enough to be maneuverable. Another important feature for anyone who values stealth is the adjustable polar fleece hood protecting the fletching. This critical area tends to tail around and scrape against woodland objects in rigid quivers. Waterproof the hood with silicone spray and it will keep your fletching dry while it protects their shape and keeps you noiseless. Additionally, The Wilderness is simple enough to be trouble free and durable enough to last a lifetime.
$135.00 + $15.00 S&H


The STEALTH, Side Stalker Quiver
The Stealth (click for photos) is a new quiver from Jack Bowers. With economy and versatility in mind, it combines the design of the original Side Stalker with the length of the Wilderness. This quiver hangs more vertically than the Side Stalker, and features a deeper broadhead pocket than the Wilderness to function as a small game quiver or roving quiver as well as a broadhead hunting quiver. Of the same lifetime materials, with the same handsewn attention to detail, and the same guaranteed promise as the Wilderness. Unlike the Wilderness, which must be ordered right- or left-handed, the Stealth switches from one to the other by simply repositioning the strap. It comes with an adjustable polar fleece hood, an arrow clip and a solo stalker.
$115.00 + $15.00 S&H